Tuesday 2011-09-20
Tuesday night I decided to pass on the Strange Loop cardinals game. Instead I met up with an old college friend who lived in the area. We drove across town against a gorgeous sunset, out to italian restaurant they had been meaning to try. As is often the case with restaurants, we had huge portions and I took home leftovers.
From there we wandered around some school's campus. It may have started with a comment about fountains, though some of the campus fountains were turned off. We walked around a pond, lined with large rock samples of many kinds, and passed by the cactus garden on the way out.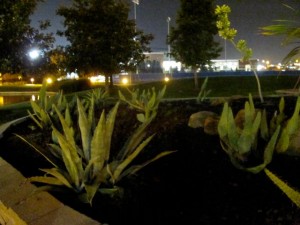 Wednesday 2011-09-21
Wednesday morning I ate the leftover lasagna. I didn't have utensils, so I just used my fingers (as nature intended). On the way out I got some more pictures of downtown St. Louis, and it's erie blue fountain.
Since the train home was leaving in the afternoon, I headed out to the City Museum. I was introduced the City Museum by my friends from the previous night, during my trip to Strange Loop 2010. That was a night visit, so I figured I ought to get a look at it during the daytime.