Sunday, July 10
Sunday I packed up. The logistics didn't look good for stopping back at the hotel to check out. In part this was the remaining balance on my metro card. I turned out I would have been just as well off with a 7-day unlimited pass. It also would have helped if I hadn't gotten off at the wrong stop once (they don't give you any credit for close trips) Time was an issue, so I had to carry my baggage with me.
I also didn't get much benefit from being in the conference hotel – I wasn't around Friday night because of the play; I suppose I could have hung out in the lobby Saturday night after I missed the bar crowd. I suppose I did get the walk back with Kyle. But was it worth $200?
I started walking south to the Highline, a raised railway converted into a snaking park. Along the way I saw more of New York's vertical parking solution. It seems that they would either need to valet the keys or have strict in/out times to manage the people on top. Breakfast was kind of random (I left my grapes at the AirBNB place, and it never seemed worth the trip to try and pick them up) I stopped at a diner, and got a huge fritata, with toast and potatoes to boot.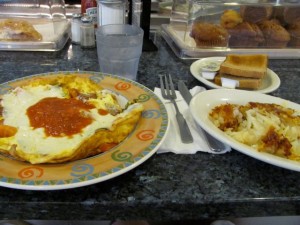 The Highline is kind of an interesting project. Different sections have their own character, from flat open walkways, raised platforms over mounded hills to support trees, and planters with rolling-on-rail benches nearby.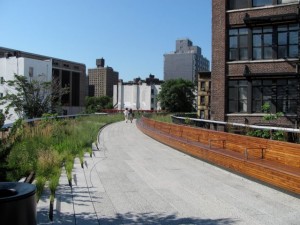 From the bottom of the Highline, I took the subway to jump back up towards Central park, stoping at Trader Joe's to stock up for the train ride home. Heading towards the park, I'd seen a few references to the Alice in Wonderland statue, and finally found it, and the conservancy water, with it's remote control sailboats.
Just south of there, another piece was carved out of the park for the Central Park Zoo. It's a fairly small zoo, although well suited to the hour I had allotted for it – there was more than I really had to look at. I managed to squeeze out one last picture by turning down the size to fit the remaining sliver of space – an idea I got when I saw two pictures left turn into "Memory card full" – JPEG is variable size after all, so the camera was estimating.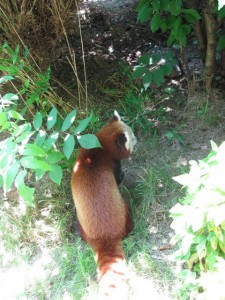 From there it was another subway jump south, to the neighborhood of Penn Station. I picked up a falafel to save for dinner and arrived at the station with plenty of time to spare. I was disappointed that Amtrak's check-in terminals couldn't scan an iPad, but I had a paper backup just in case.
It turned out that the train had a dining car, so I missed an experience there by bringing my food with me. It didn't look like a lot of other people were taking advantage of it either, but the car had reservation times, so it might have been too piecemeal to notice.
There was really nice sunset, lost to my full camera. Sleeping in a coach seat is hardly ideal, but with the train bumping and stopping, I don't that a bed would make it much better.