I've had my sturdy JanSport backpack for several years. It was still in good shape, and can be expected to last a while longer – the last one went on the order of ten years with one stitching job, and only had to be replaced when the zipper became unserviceable. One thing I liked better about the previous model was the vertical arrangement of the outer pockets. The current backpack has them layered, so one being full affects the capacity of the other.
However, I was getting tired of shuffling things in and out of the one bag as I changed destinations and modes of transport. I also figured that this one will wear out eventually, and so buying a new one would just use them up in parallel, rather than sequentially.
The bike accessories were one challenge – air pump, elastic ties, rag in case the chain fell off, tire patch, and sometimes a headlight. Getting all that into a package would be a good start. At the bike store what I found was an under-seat bag. However, I had to get a fairly large one to accommodate the pump. It was designed for permanent mounting, whereas I wanted a quick release so I could take it with me when locking the bike up. The construction was also very stiff, making it awkward to carry or put into another bag.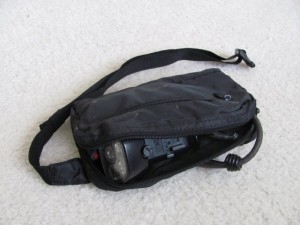 The solution seems to be a simple fanny-pack. From my brief tour of stores, a simple fanny pack is a hard thing to find these days – the one I found has side pockets on both both front and back. It works well enough – the main compartment holds the bulky items, and the outer pocket takes the smaller things that would otherwise find their way to the bottom and require a search party to be sent out. The quick-release clasp is a huge improvement over the loop-and-velcro arrangement of the bike bag, and the default attachment is to me, so it automatically goes with me when I lock up the bike. (Downside being it doesn't automatically stay with the bike in my garage.)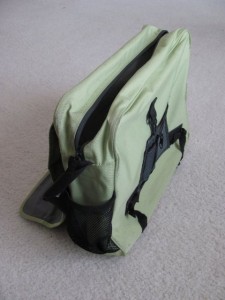 As to the backpack itself, the most common trips were tech events in Chicago, and Martial Arts. I have a messenger bag that I used to carry the laptop in, but I found that it was uncomfortable for long walks across the city. My alternate, a Twelve South laptop case for the backpack, was also rather bulky. It was awfully convenient having all the accessories (video adapter, remote, flash drives) in a dedicated bag, however.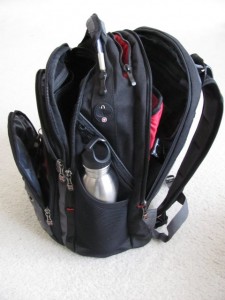 A little searching determined that office stores commonly had computer backpacks, so I headed down to the nearby Staples. They had exactly one Swiss Gear backpack. It's overpriced, overdressed, and overcomplicated, but it fit the laptop well enough, and I didn't want to spend the opportunity cost of driving all over the fox valley searching for the perfect backpack. I suppose that's what the store counts on.
Surprisingly, I found a use for most of the compartments. Most of them are still mostly empty, and I often find myself fumbling from pocket to pocket trying to remember where something is, or just grabbing the wrong zipper.
Most of the martial arts paraphernalia went into the sparring bag. There a few things I usually want at hand when I'm home, and I didn't want to haul the unwieldy bag upstairs. I experimented with a drawstring backpack "conference freebie", but it could have really used one small pocket, and didn't fully close on top in the event that I hit with some light rain. In the end I observed that I was removing pretty much everything from it when I got home, so I might as well use my trusty old backpack for that task.