Sunday, 2011-09-18
The trip to Strange Loop started rather early Sunday morning – I had to get to the Metra station, to get into Chicago to take Amtrak to St. Louis, arriving with plenty of time to settle in during the afternoon.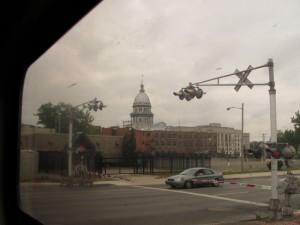 Sometime while I was in Chicago Union Station, Sunday turned into a dark and rainy day. I didn't pay too much attention to the weather. I got a seat next to the window and power outlets, but my neighbor was a friendly student traveling back to school. His main focus was biochemsitry, but he did some web page development and search engine optimization, so we had a little to talk about.
The moist weather did give me some misty shots of the arch on the way in. Things were starting to clear up by the time the train arrived in St. Louis. It was still overcast and wet, but not actively precipitating. The path from the train station to the hotel ran past CityGarden, a park, in direct line to the arch, filled with plants, water features, and art of all kinds.
Arriving at the hotel, I was confronted with The Elevator. The elevators at the Hilton St. Louis Ballpark have a touch panel where you select your floor before getting on. It's not a very good touch panel – in fact it's abysmal. Someone else clued me in to use a fingernail to activate it; I can't help but wonder if someone bought touch sensors designed for pen input to try and save money. In theory putting in the destination floor beforehand allows the elevator system to plan more efficient routes. In practice, it felt uncommonly slow, and from what I overheard, many people agreed.
One of the reasons I arrived in the afternoon was to attend the speaker dinner. At last year's Strange Loop I thought the pre-party went rather well, but this year I didn't make much of the conversation. I went up to the rooftop bar afterwards; the view was poor as it had started raining again, and I failed to make an connections in the overcrowded room.