Thursday, July 7
After walking through central park, my feet were a little sore. After walking around Liberty island, Ellis island, and across Manhattan, it was a more constant pain. Some sitting activities seemed in order. I'd also checked the weather, and the next day had a chance of rain, so it looked like today would be better for out-door activities.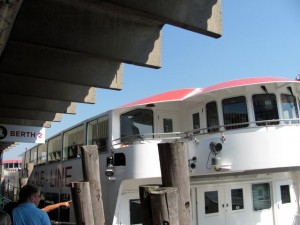 There is a Circle Line that circumnavigates Manhattan island in the course of about three hours. I figured it would be a good place to sit down for a while. After arriving too late yesterday, I aimed for the first cruise of the day.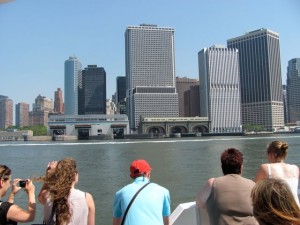 I probably could have gotten better pictures standing on the deck. I also wasn't too keen on sitting in the sun for three hours, so many of the pictures have glass or frames in the way. It was a pretty interesting overview of the area. It might have been a better first thing, to get an overview of the land (except for the sitting down part)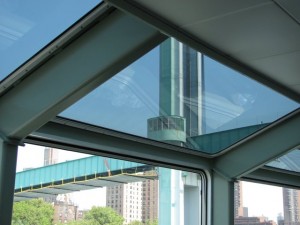 The cruise ship narrowly fit under a couple of bridges. One rail bridge at the upper tip of Manhattan island had to rotate open to allow us through. We had to wait a moment for an Amtrak train to pass over the bridge; Later on I'd pass over on my way home as well. I figured the only way to properly represent an active event was video. Unfortunately, after I was done I saw that it was about 200MB, or about 100 full size pictures out of 700-some on the camera.
At the end of the trip, the guide mentioned Hell's Kitchen for lunch. I'd been a little leery of the name just seeing it on the map, but he said that while it had been a troubled neighborhood, things were pretty good now. I ended up walking into a mediterranean place with large jars of spices and dried fruit for bulk sale. I saw a pastry (of which I'm forgetting the name, Bakar? Daka?) filled with feta and spinach, so I gave that a try, with yogurt. It had a very tough crust.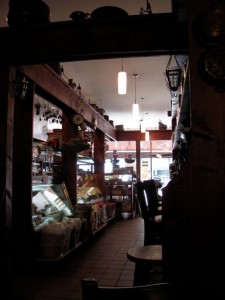 After that, I was kind of without plan. I remembered Coney island had come up. This was a bit farther away, in Brooklyn I think. Probably the the only time I really got away from Manhattan; I didn't see much of it of course, although there was an awful lot of graffiti along the subway line. As a longer ride, this is also where I started taking more advantage of my iPod to start working on the podcast backlog.
Coney island has a beach, amusement rides, and a boardwalk with shops in places. I may have missed a lot beyond the immediate area of the boardwalk near the subway station. I saw the New York Aquarium and a commercial looking street for starters. I walked the boardwalk a bit to see what was in the immediate vicinity, but I still wasn't up to too much walking. Some dark clouds started coming, and the light/dark contrast made for a few interesting pictures. I'd also thought of something else that would make for a good sitting-down activity.
I've been particularly interested in broadway shows, or the high price tags I guessed went with them. Still, it was an opportunity I wouldn't have very often, and as I said, a place to sit down for a while. Of course, as a field that doesn't interest me much, there was also the challenge of find a subject that interested me. Most of the one's I'd seen advertised were the same one's I'd seen advertised in Chicago, reducing the novelty a bit. I suppose the ones-advertised wasn't the best filter to use, but I had seen one that had an interesting premise – Wicked, "The true story of the wicked witch of the west"
I had to go back to my AirBNB room to pick up the iPad and work out the details. Wicked was playing that night, and not too far away. However, the online reservation was completely sold out for some time to come. I asked my host and she said there may be still be tickets, or there might be some available earlier in the day or by lottery.
Going into the theater I was greeted by an assemblage of gears and a mechanical dragon. I wondered what show that was for, but it didn't say. After looking around a bit I found the wait-for-cancel line, but figured it ought to at least ask at the ticket counter. Guard towards the front said there was nothing but $140 tickets left; I had to think about that for a bit, but decided I was only here once. Getting up to the head of the line, the agent told me that I had the "last seat in the house" for tomorrow's show, at $71 (which meant it was the back, but that section is what I would have chosen anyway)