Tuesday, July 5
Tuesday my parents dropped me off at the Middleton train station, on their way home (with, I hear, a stop in Hersey, PA) The rail system is a bit of interesting case – the station is in New York, operated by the Metro North Railroad. It heads south where the bulk of the stops operate under the NJTransit lines. After a switchover at Secaucus Junction, I then headed underground to New York City, New York Penn Station (Not to be confused with Newark Penn Station)
One of my experiments for the week was trying out AirBNB – I was helped along a little by the fairly high hotel rates. Many AirBNB listings were following along, but I found an (relatively) inexpensive one with good reviews. The location was great – just off lincoln square, which has a subway that could get many places, and transfer to the rest. The room was small, but I really only slept there, so it was no issue. The hallway also had some really interesting star pattern wood floors.
I was also a block or two away from central park, so I went out there to wander around for a bit. My host recommended getting my own food instead of eating out, so I planned to stop at a fruit stand and Trader Joe's on the way home. On the way out, however, I couldn't resist the novelty of a falafel from a street cart. I'd later find these everywhere, competing with the hot dog carts, smoothy carts, produce carts, and others. I guess the high hotel rates reflected high real estate prices, which makes carts a lot more practical for many business.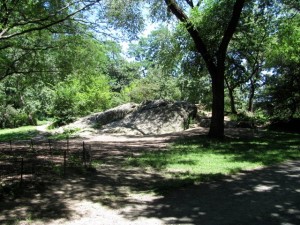 A bit turned into several hours, and I still missed a lot of things. Central park really is something interesting – a huge, varied, green space in the middle of Manhattan. Chicago has Millennium park, but it's kind of off to the side, mostly flat grass, and generally a lot more squared-off and planned-looking. Central park has rocky hills that I can't imagine being man-made and wandering paths that one could believe were paved over from beaten paths.
It's understandably popular – even on a weekday afternoon, I don't know that you could find a moment alone anywhere in the park. Popularity has it's price – lots of areas were fenced off to prevent getting trampled, and lawns were marked something like 9 to dusk, I suppose to prevent camping.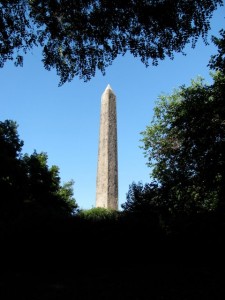 There is a little of everything – shady lawns and sunny lawns, rocky hills, forested areas, lakes, streams, and a swimming pool, sports fields, numerous small playgrounds, various kinds of trails, fountains and squares, monuments, and some of the grounds were given over to the zoo and Metropolitan Museum of Art.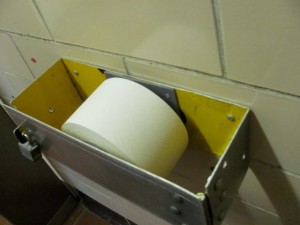 And an oddity: a toilet paper holder that appears to be made from an old road sign.