Monday, July 4
Monday was the wedding proper. In particular, an aunt was entering her second marriage. We haven't been much involved with the relatives, and the main connection, my mother, was off helping with the preparations, so I felt a little out of place amidst a bunch of strangers.
The wedding itself was somewhat non-traditional. People gathered on a sidewalk Apparently the pastor has taken to holding services there – the church is wherever the faithful gather, after all. Thankfully the weather cooperated, the possibility of it not being why church buildings are so popular. Like the unpretentious setting, the ceremony was pretty much to the point. One interesting touch was mixing two vials of colored salt into one container.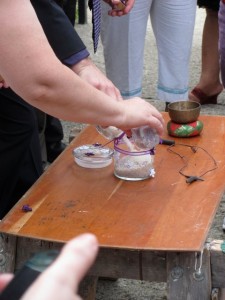 The wedding, ending around mid-day, turned immediately into the reception, with a large, perhaps even excessive, spread of food laid out nearby. Beyond the abundant chips and salsa, bread and hummus, eggs, and cupcakes, I hear there were sandwiches we never saw, perhaps for lack of table space.
Not long afterwards, we went out to a buffet for the close family. I had initially heard this as dinner, but it was practically a second lunch. The buffet had some pretty good food; perhaps someone else's schedule precluded a longer separation. Can't complain too much about free food anyway.
We sat down at a table with three cousins and their boyfriends. The cousins were a real hoot, constantly talking and joking. It's a shame our paths don't cross more often.
Afterwards, we went over the Orange County Choppers store, and my parents did buy a few souvenirs. After that, we came to the conclusion that most things would be closed on a late holiday afternoon, and set off on a scenic drive down along the Hudson. It is quite beautiful country, and we stopped at several overlooks, including one with a view of West Point military academy.