Sunday, May 1
Iowa Falls, take three
I choose to stay around for the morning gathering, catching a little of it before heading out. I was up early enough that I had a little (but not a lot) of time to spare, so drove up into Iowa Falls again, heading towards a green patch on the map. It proved to be the Ira Nichols Refuge.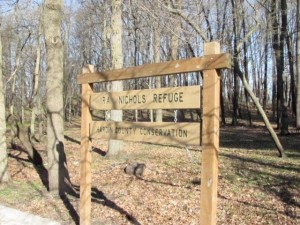 A large portion of the refuge truly was, fenced off from idle access, but there was still are large section of woods open for walking.
Way out back, I startled some deer.
Omaha
Technically, Omaha is in Nebraska, but it's just over the Iowa border, so Iowa is essentially where all the driving took place. I had left quite enough time for traffic and other eventualities, and arrived at the grotto with a bit of time to spare.
Apparently the grotto was once a spring and a functional water source. The grotto itself is an aside to a larger park (of the cut grass variety). It's in something of a ravine which runs a bit more wild, albeit with well beaten paths. The area shows evidence of other tunnels and drains, many appearing of ancient construction, and several washed out from leaks and other erosion.
The area is also home to a university (the students no doubt beating many of the paths), and after checking out the short ravine, I took a quick walk around the university grounds.
Wedding
I returned to the grotto to find people setting up a sound system and paper isle. They later tried to make it a petal-strewn path, but the wind wasn't very cooperative.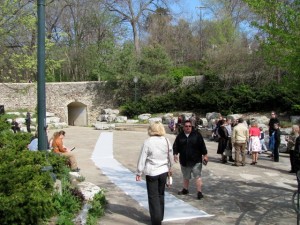 There was some strange guy in a top hat; I guessed he was the groom, and was later proven right.
People ended up sitting on tiered rocks around the grotto. Since I was alone I crawled up to a small corner, and ended up with an interesting perspective on the walkway into the grotto, peering through some bushes.
The ceremony was once again to the point, if rather less traditional. On the same theme, the reception was held in a biker bar called Chrome elsewhere in Omaha. This wasn't as surprising as it might have been, after seeing the groom and some of the ushers. Space was a little tight at times, but it was interesting to see how they adapted – wedding party on stage, food on covered pool tables, etc.