Saturday, April 30
Iowa Falls, take two
The wedding being the afternoon, I went back to wander around Iowa Falls some more. Having made the trip yesterday, I theorized that it was in fact walking distance, which I proceeded to prove. Along the way I passed under a rail bridge, which was alive with the cooing of a great many pigeons taking shelter under it's beams.
Going through town I happened across all manner of art – in yards, on public buildings, and even a star-spangled house.
Quite by accident, I found my way down a long stairway to the local dam.
Nearby, a stream ran through a built-up-and-fallen-down area. Upstream, a deep canyon was spanned by an arched bridge over to the local water park.
Alden
The wedding itself was to be in the neighboring town of Alden.
I headed over about mid-day figuring I would find some place to eat. I parked at the church, which was the obvious base station.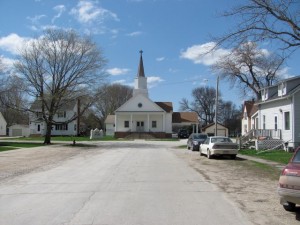 I happened across the groom – the wedding party was in early for pictures – and got invited in share sandwiches. Then I headed out to go wandering through town. Alden is a small town deep in farm country.
It has it's own dam, with some of the surrounding works still evident.
Nearby, a small stone bridge goes out to an island that was apparently once held parts of the mill as well. At the bench nearby I met an elderly resident and got a little town history. Alden has seen better times, with so many grocery stores and so many gas stations, but the rise of the automobile made it just as easy to go into the larger Iowa Falls, which looks like it's seen better times itself.
Wedding
I returned to the church to find everything set up and ready for sign in – time to change clothes. The church was fairly packed, and the ceremony was well run, covering what it needed to without carrying on too long.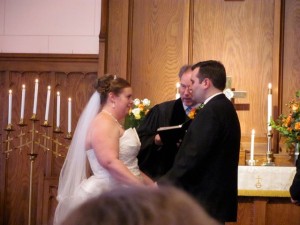 The reception back in Iowa Falls featured a quilt stitched together with contributions from many different family members. There wasn't a whole lot of dancing, although the children took to it with boundless energy.