Friday, April 29
The long belated story of two weddings and some walking.
Strange chance had two old college friends getting married on two consecutive days (quite unbeknownst to each of them at scheduling time) in not too-distantly separated places. Two narrowly timed stops, one in a very small town, pretty much cinched it as a driving trip.
Driving Out
I set out mid-morning expecting to stop and eat my last few bananas somewhere in route. I stopped at the Long Hollow Scenic Overlook in northwest Illinois.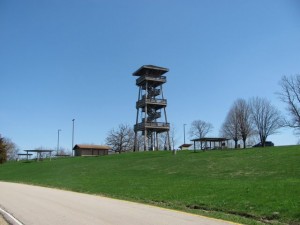 The tower made it stick out a bit, although the tower itself turned out to be closed. Very closed indeed – they had actually pulled up the lower level of steps to keep people from getting adventurous.
After eating, and taking a picture for a group of travelers who seemed to be wrapping up their own lunch, I wandered around a bit, and found an area of cliffs and tilted rock back in the dog walk area.
Iowa Falls
After checking into the hotel at Iowa Falls, I was told that downtown was well beyond walking distance. It seems the main bridge was out, so I drove around the detour and parked downtown in order to wander around a bit. The bridge was quite out, with cranes and equipment along the banks and lots of shore work evidencing a substantial rebuild.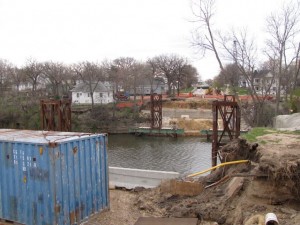 After a bit of searching I crossed the infamous swinging bridge.
The other side was more of a sports park than a nature park. After wandering around I found a deep cut in the cliffside from some stream feeding the river, with something of a small cave in the side. I couldn't resist crawling around the cliff to take a closer up look (with a few small trepidations about the possibility of having to exit by way of the river)
Returning to safety, I found the Peter Toth indian-head sculpture quite by accident.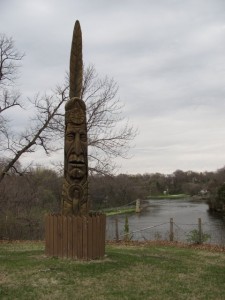 Finally I headed back into town, and stopped in at the Princess grill and pizzeria for a plate of spaghetti before looking around downtown proper a bit.