After hearing about the benefits of more/larger monitors a few times (probably most often from Jeff Atwood) I finally decided that it was worth putting to the test.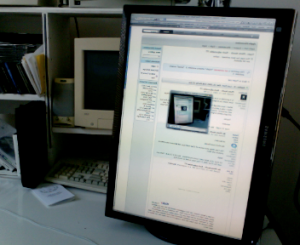 I took the picture with the laptop, but you've got my old pc's ~14″ for scale.
I might have been better off going with a 22″ for half the price – and then if necessary getting a second monitor and a DualHead2Go display splitter – the laptop has only one port and I can't go adding video cards.
I'm currently trying out the portrait mode to save scrolling around. This is absolutely fabulous for PDFs and such, though I haven't had the opportunity to do any development yet. After a week or two I'll probably try a wide arrangement, with two windows side by side.
The monitor (Samsung 2693hm) has been working pretty well so far. It's a bit bright at night, however, and while the macbook will adjust it's built in screen for the lighting conditions, it won't adjust the external screen. Fortunately, the monitor has a set of presets (one of which is custom) It's still a bit bright at 'brightness 0′, but we'll see if turning down the contrast helps.
Unfortunately, switching between settings involves the adjustment buttons, which are solid-state touch sensitive zones on the frame, so there is no tactile feedback. (I read about this in reviews, but didn't think I'd be using them on daily basis.) The printing is also impossible to see in darkness or artificial light. I'll probably resort to some sort labeling.